Our Chairs
Why buy a Francis Bay Muskoka Chair? In a nutshell:
- Our Muskoka chair kits are made especially for us in Canada from Canadian FSC certificated wood, they are genuine Muskoka chairs and not copies or cheap imports from the Far East. We buy them for quality and comfort.
- Our Muskoka chairs have a unique comfort slat which makes a huge difference to the sitting experience especially when you're having a lounging afternoon in one!
- The arms (or paddles as we like to call them) are made from one piece of wood and you won't see any screwheads or plugs in them. The arms are beautifully rounded and not squared off at the front.
- Our Muskoka chairs have curved backs so they fully support you and along with the comfort slat they feel as though they've been ergonomically designed. We haven't come across any other chair in this style whether it's called a Muskoka or Adirondack that offers this level of comfort.
- We only use stainless steel screws and we include wood glue with all chair kit orders.
- We are a small independent British Company (paying the correct taxes!) since 2005.
Now for more detail:
Our chairs are made for us in kit form in Ontario, Canada and we import them directly into the UK which means that we can offer them at very competitive prices.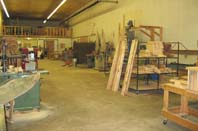 The mill in Ontario - taken during lunchtime!
We wanted a chair that was made in Canada because this is the 'birthplace' of the Muskoka and we are proud to offer a Country of Origin product. We fell in love with this design of chair whilst on holiday in Canada and the USA because of its comfort and stylish good looks. It looks just at home in large sweeping gardens as on a balcony or in a garden room. Even though they have been around for years the design still holds for the 21st century.
Which Wood?
The ideal choice for Muskoka Chairs is either Pine or Western Red Cedar as any other wood will either not be durable enough outside or be too heavy to move. Our Western Red Cedar comes from British Columbia, We see a lot of garden furniture made from 'Redwood' which is European Redwood and is a variety of Pine which needs to be pressure treated for longevity. It does not have the superior properties of Western Red Cedar and it shouldn't be confused with the giant Redwood trees from coastal California. Our Western Red Cedar is slightly larger overall than our Pine chair.
The main difference between Pine and Cedar is that Pine has to be treated with an exterior finish in order to be left outside, whereas Cedar is naturally weather and insect resistant so will last a long time untreated. Western Red Cedar is a beautiful wood which offers so many different grains and shades, no two chairs are the same. Cedar can be left untreated to weather to a silvery grey colour, although we recommend an initial coat of clear oil and subsequent top-ups to keep it nourished. You can paint Cedar (although is does seem a shame to cover up such a lovely wood) but the natural oils could react with the paint so bare this in mind when choosing the paint. If you want a coloured chair, it maybe best to chose the Pine. Some woodworkers dismiss Pine but it does depend on the Pine. Ours is excellent quality and provided you look after it will give you many years of enjoyment. Cedar is ideal if you want a natural chair and its longevity makes it the first choice of Canadians and Americans. More information regarding British Columbia Western Red Cedar can be found at www.wrcla.org
Kit or Assembled?
We offer the chair as a kit which includes all of the parts in bare Canadian White Pine or British Columbia Western Red Cedar, full instructions, glue and stainless steel screws (which means no rust or black marks on the wood). You will normally have one spare screw so don't worry you haven't missed anything!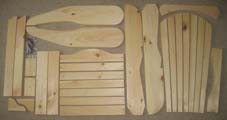 You only need to provide the screwdriver, and finish. You get the satisfaction of making it yourself and you can even customise the finish. Why not try stripes, spots, flowers or your favourite team's colours? Your imagination is the only limit. We'd love to see photos of your chairs.

The kit is boxed and ideal as a present for someone who enjoys a small project. The record for assembling a pine kit is 29 minutes (one of our customers not us) but we would say normally about 1 - 2 hours.

You make a huge saving if you buy a kit but we also offer an assembly service. We take our Muskoka Chair kit and sand it some more to round off edges, we plug the screws on the upper back section and we assemble the chair using stainless steel screws and wood glue. We fully assemble the chair and then de-assemble it so you're not paying a fortune in delivery charges. The seat section and back sections are kept fully assembled and you just have to add the other parts following the existing screw holes, easy peasy, we even provide the glue! Treat it with a finish of your choice, stained for a natural wood look or paint, any colour looks brilliant on our Muskoka Chairs.You can be assured that we only release the chair to you once we are happy with it, and we can be very fussy!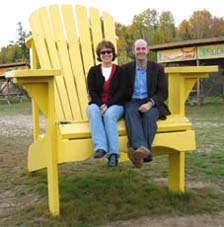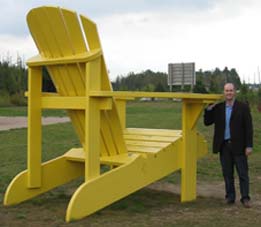 No camera trickery here, the chair really is this big. Whilst it's a bit larger than our chair, it is more or less an exact replica. We can't offer this size chair but we can certainly do the same colour!
Design Features
The arm rests (paddles) are a lovely feature of this chair and they are wide and flat enough to support a dinner plate. The routering is superior giving a lovely rounded finish and they are made out of one piece of wood. You won't see any screw heads or plugs in our paddles as they are attached by screwing in from underneath so keeping the paddles smooth and clean.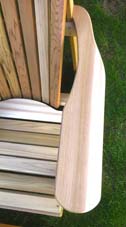 Our customers tell us that they are the most comfortable garden chairs they have sat in and this is because they are third generation Muskoka chairs which means that they have an angled sitting position with a flat base seat and a slightly curved back. The chair is comfortable yet supportive at the same time. Some chairs in the Adirondack style have flat backs and a fully angled sitting position which are not as comfortable. Other chairs may look the same but each one will have subtle differences, we sat in a lot chairs to find the most comfortable. The elegant look of our chair is due to it being proportionate, the back and seat slats are of similar size and the wood is the right thickness to not look too cumbersome. On a recent trip to Canada and America we tried to find a better chair but couldn't, we still believe that ours is the best!




Sustainable Wood
Our chairs are made from Northern Ontario Pine or British Columbia Western Red Cedar and the mill in Canada has received FSC certification.
The Forest Products Association of Canada gives some interesting facts in the publication 'What Buyers Need to Know - Certification and Canada's Forests':
'Canada has maintained almost 92% of its original area of forest cover, more than any other country. This means only 8% of all forests has ever been converted to farmland or cities. Annual harvesting levels in Canada are strictly controlled by government foresters and all harvested areas must be promptly regenerated. In total, only one quarter of Canada's 417 million hectares forests are managed for timber production and less than 1% of that working forest is harvested annually.'