FREE Delivery on Orders £50 & over*
* Mainland UK only not Scottish Highlands. Some other restrictions for Large Bull Cooler & Aspen Fire Pit
Metal Sculptures
Think Outside
From the Think Outside 'Ee-i-ee-i-o' and 'Barnyard' ranges these sculptures are designed by Australian Aaron Jackson. Made using recycled 44 gallon oil drums so each one is very strong and will have a unique patina and colour combination. They have been stove enamelled for extra protection. The Carpenters Range is made from recycled wooden hardwoord pallets and recycled metal features to create another range of unique and fun animals.
Use indoors as a wonderful statement piece or outdoors as an unusual garden sculpture where they will weather and last many years.
Have a look at our Customers' Photos.
NEW - Barnyard Cow Planter

£119 - Now £99
Plant not included!
More details

Pete the Pelican Beverage Tub

£155 - Now £129
Drinks not included!
Size: H70.5cm W28.5cm D37cm

NEW - Barnyard Rooster

£37
More details

NEW - Barnyard Duck

£32
More details

NEW - Barnyard Owl

£32
More details

NEW - Cubby House Birdfeeder

£37
More details

NEW - Barnyard Kimberley Dragonfly

£35
More details

NEW - Barnyard Ulysses Butterfly

£28
More details

Maisy Daisy - Large

£49 - Now £39
More details

Maisy Daisy - Medium

£39 - Now £29
More details

Carpenters Range - Bette D theCat

£49 - Now £35
Size: H46cm W40cm D18cm

Carpenters Range - Dolly P Cow

£109 - Now £55
Size: H50cm W70.5cm D35.5cm

Pixie Chicks

£39 - Now £25 each
Size: H17.5cm W9.5cm D24cm
Think Outside - Something a little different
These sculptures are also made by Think Outside and designed by Aaron Jackson. They are made from very strong mild steel in a durable pre-aged rust finish and will continue to age gracefully over time. When designing the fire pit Aaron wanted something that looked beautiful with or without a fire. We think he's created a fire pit that helps to contain and control the fire unlike the shallow bowl style..

Aspen Fire Pit & Stand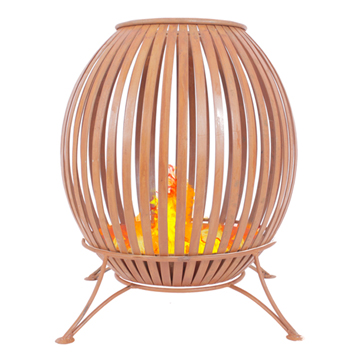 £445 - Then £299 - Only 1 left now £240
Comes with long tongs for placing wood
Size: H72.5cm W60cm D60cm
Weight: 47kgs
Recycled Metal Animals
Handcrafted by African Artisans from recycled scrap metal these sculptures are very strong and durable. Our friend fairly trades directly with the Artisans in Zimbabwe so they are receiving 100% of the money with no agents or middle men taking a cut. Each one is unique so won't be exactly the same as the one in the photo. Made for outdoors with a durable varnish finish but would look equally beautiful indoors. As these sculptures are all individually hand cut and pieced there will be slight differences in the design and size but they are all gorgeous. (Approximate overall measurements include tails, ears, noses and beaks - if they stick out the furthest!) Please note that as these are made from scrap metal there may be imperfections in the metal used to create each piece which just adds more charm to their rustic character.

Elephant

£49

Approx size: Height 32cm, Length 60cm, Width 23cm

White Goose

£55

Approx size: Height: 64cm, Length 43cm, Width 17cm

White Owl

£39

Approx size: Height 35cm, Length 15cm, Width 15cm

Oyster Catcher

£25

Approx size: Height 30cm, Length 37cm, Width 23cm
*Free delivery on orders over £50 to mainland UK (not including Scottish Highlands & Islands). Sorry but due to their size we can not send some of these items outside of mainland UK, please check with us and we'll be happy to advise you francisbay@tiscali.co.uk. Orders under £50 incur a delivery charge of £3.95.