Assembled Painted Muskoka Chair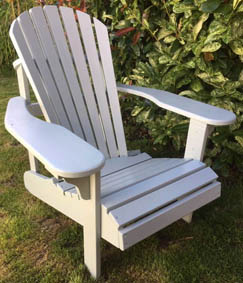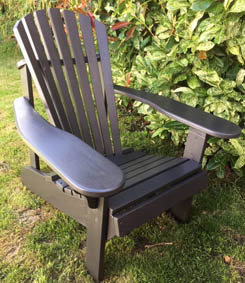 Grande Knot-free Canadian Pine Muskoka Chair (Left) and Regular Knot-free Canadian Pine Muskoka Chair (Right)
The Assembled Pine Muskoka chair is made from our knot-free pine kit so it offers the same good quality Northern Canadian Pine. The photos above show the difference in style between the two sizes, same comfortable stitting possition but the Grande is a little bigger than the Regular. After assembling the chair we preserve it against wet rot and fungus, then cover it with two-three coats of water-based exterior paint. The colours we have available are a true reflection on our computer but we realise that they may not look right on all computers so please contact us if you would like a colour chart. The Jelly Bean Muskoka Chair is painted in three colours.
New - our Deluxe Western Red Cedar Muskoka chair is now available in a painted finish - Out of Stock until October 2020. We always felt that Western Red Cedar was too beautiful to paint but we know that a lot of customers like the painted look and wanted the longevity that the Western Red Cedar offers, so we've given in! Available in the same colours as our Pine Chair, it is also given two-three coats of paint.
If you have a particular colour you want us to match we are happy to paint it in any colour or stain you need such as Cuprinol Garden Shades or Sadolin. There are some finishes out there that we feel do not work well on the chairs so please contact us to discuss any non-standard finishes. Please note that paint finishes sit on the surface of the wood so are more prone to chipping than stain.
Canadian Pine Muskoka Chair approx overall measurements:
Height - 36 inches; Width - 31 inches; Depth - 34 inches.
Height - 91cm; Width - 79cm; Depth - 86cm
P addle (armrest) are just over 6 inches (16cm) wide.
Grande Canadian Pine and Deluxe Western Red Cedar Muskoka Chair approx overall measurements:
Height - 38 inches; Width - 34 inches; Depth - 36 inches.
Height - 96cm; Width - 86cm; Depth - 91cm
Paddle (armrest) approx 7 inches (17cm)
Measurements are approximate as chairs are handmade and slight size variation should be expected.